Visegrand Animation Forum: NEW TALENTS 2016
Ενημέρωση: 09-07-2016 15:06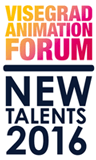 Project VAF New Talents is intended for alternative promotion of the most talented young animation filmmakers from Central and Eastern Europe. Its aim is to present internationally the 11 best films made by students and debuting artists in a given year to a professional audience and for the general public.
The selection of the films focuses on extraordinary talents whose work promises successful future careers. The project counts on the presentation of this compilation at selected European animated film festivals and to draw attention to new talents and bring them together with experienced foreign producers.
New Talents 2016 selection (69'):
01. COWBOYLAND / KOVBOJSKO (Dávid Štumpf)
02. WOLF GAMES / VUČJE IGRE (Jelena Oroz)
03. FENCES / PŁOTY (Natalia Krawczuk)
04. BEYOND / BEYOND (Milan Kopasz)
05. THE MORE I KNOW / ČÍM VÍC VÍM (Marek Náprstek)
06. COMPOSITION / KOMPOZICIJA (Mitja Manček)
07. MOSAIC, THE WALTZ OF SPLEEN / MOZAIKA, WALC ŚLEDZIONY (Andrea Guizar)
08. TALE / MESE (Attila Bertóti)
09. RIVERS / RZEKI (Daria Kopiec)
10. THE NOISE OF LICKING / A NYALINTÁS NESZE (Nadja Andrasev)
11. HAPPY END / HAPPY END (Jan Saska)
01. COWBOYLAND / Kovbojsko, 5'
Slovakia, 2014
Directed by Dávid Štumpf
Screenplay: Dávid Štumpf
Cinematography: Dávid Štumpf
Editing: Dávid Štumpf
Animation: Dávid Štumpf
Colouring: Dávid Štumpf
Producer: Academy of Performing
Arts in Bratislava
According to the law of the Wild West, thieves must be punished. But when the sheriff's horse breaks and there is no-one to oversee justice, it's hard to forecast if justice really stays justice.
02. WOLF GAMES / Vučje Igre, 5'
Croatia 2015
Directed by Jelena Oroz
Screenplay: Jelena Oroz
Cinematography: Jelena Oroz
Editing: Jelena Oroz
Sound: Natko Stipaničev
Animation: Jelena Oroz
Colouring: Jelena Oroz
Producer: ALU i Ustanova Zagreb film 2015
Three young wolves are spending late afternoon together. This story reveals how they ended up alone.
03. FENCES / Płoty, 7'
Poland 2015
Directed by Natalia Krawczuk
Screenplay: Natalia Krawczuk
Cinematography: Natala Krawczuk
Editing: Magdalena Chowańska
Sound: Ewa Bousz
Music: Tsering Tobgyal
Animation: Natalia Krawczuk
Producer: Polisch National Film, School in Lodz
A bird in a cage, a toddler in a playpen, two dogs on either side of a fence. Partitions of various sorts accompany our lives from beginning to end. Each of us deals with them in their own way. Does it really make sense to separate ourselves from our neighbours with a wall? The film is a reflection on the role of "fences" in our lives. Real ones as much as those in our minds.
04. BEYOND / Beyond, 10'
Hungary 2014
Directed by Milan Kopasz
Screenplay: Milan Kopasz
Cinematography: Balazs Varju Toth
Editing: Judiz Czako
Sound: Peter Benjamin Lukacs
Music: Csaba Kalotas
Animation: Milan Kopasz, Vivien Sarkany
Producer: József Fülöp
A black hole is a place in space where the attraction of gravity is so strong that even light cannot escape. Places and situations of unusual attraction also exist on Earth. Some step back, some move closer…
05. THE MORE I KNOW / Čím Víc Vím, 8'
Czech Republic 2015
Directed by Marek Náprstek
Screenplay: Marek Náprstek
Cinematography: Marek Náprstek
Editing: Matěj Pospíšil
Sound: Jana Coufalová
Music: Matěj Důras
Animation: Marek Náprstek
Colouring: Marek Náprstek
Producer: Zuzana Kučerová
A weary old man is preparing to die. Having nothing more to fear, he decides to share the secret of his life with us. While his relatives wait outside the door, eager to get a share of what was once his, he takes us on a journey through his memories. What will be the ultimate truth he chooses to pass on?
06. COMPOSITION / Kompozicija, 4'
Slovenia 2015
Directed by Mitja Manček
Screenplay: Mitja Manček
Cinematography: Mitja Manček
Editing: Borko Radešček
Sound: Mitja Manček
Music: Mitja Manček
Animation: Mitja Manček
Producer: Mitja Manček
Two audiovisual and film basics – sound and image – are created by the same lines engraved directly on primary audiovisual medium – film track – in order to trigger the most harmonic relationship possible between them. In this film you can see the sound and hear the image. The strong connection between certain tones and certain rhythms can also be defined.
07. MOSAIC, THE WALTZ OF SPLEEN / Mozaika, Walc Śledziony, 4'
Poland 2015
Directed by Andrea Guizar
Screenplay: Andrea Guizar
Cinematography: Andrea Guizar
Editing: Andrea Guizar
Music: Maria Czechowska
Animation: Andrea Guizar
Producer: Polish National Film
School in Lodz
A big ship on the high seas. Nine colorful characters are engaged in mysterious coordinated work that we can term "the waltz of spleen". A tragic comedy where visceras and sublime sentiments meet in the very same place.
08. TALE / Mese, 8'
Hungary 2014
Directed by Attila Bertóti
Screenplay: Attila Bertoti based on
a short story by Daniil Kharms
Editing: Judit Czakó
Sound: Rudolf Várhegyi, Zoltán Vadon
Music: Máté Hámori
Animation: Attila Bertóti, Péter Vácz, Nándor Bera, Márk Juhász, Virág Kiss, Mátyás Kungl, Soma Sebesvári
Colouring: Zsuzsanna Bányai, Csaba
Czékmán, Boróka Csibi, Vivien Sárkány, Ágnes Győrfi, Zoltán Koska, Iván Tamás
Producer: József Fülöp
Animated short about Vanya, Lenochka, the king, the queen, the robber, the guards, the horse, the blacksmith, the fire chief and his wife, based on a short story by Daniil Kharms.
09. RIVERS / Rzeki, 3'
Poland 2014
Directed by Daria Kopiec
Screenplay: Daria Kopiec
Cinematography: Jaroslaw Bedyk,
Maciek Bedyk, Daria Kopiec
Editing: Monika Sirojc
Sound: Agata Chodyra
Music: Ola Bilinska
Animation: Adam Wyrwas
Producer: Malgorzata Czyzewska (Fundacja Pogranicze)
Time and the passing of time represent the main themes of Rivers – an animated film based on Czeslaw Milosz's poem. I look for traces on his body – starting from the umbilical cord, continuing with fingerprints, and ending with facial wrinkles. The inseparable attribute of the main character is his suitcase – which becomes his cradle, raft and house. His surrounding world is also carnal: river is palms, earth is a woman, rain is tears. This is the world through which the character travels.
10. THE NOISE OF LICKING / A Nyalintás Nesze, 9'
Hungary 2015
Directed by Nadja Andrasev
Screenplay: Nadja Andrasev
Editing: Judit Czako
Sound: Peter Benjamin Lukacs
Music: 12Z, Balint Szabo, Marci Kristof
Animation: Zoltan Koska, Zsuzsanna Kreif, Andras Menrath, Maja Szakadat,
Soma Sebesvari, Zeno Mira
Colouring: Julia Farkas, Zeno Mira, Zsofi Pint, Anna Tokes
Producer: József Fülöp
A woman is scrutinized every day by the neighbor's cat as she takes care of her exotic plants. This perverted ritual comes to an end when the cat disappears. Next spring a peculiar stranger pays her a visit.
11. HAPPY END / Happy End, 6'
Czech Republic 2015
Directed by Jan Saska
Screenplay: Jan Saska
Cinematography: Jan Saska
Editing: Jan Saska
Sound: Jiří Gráf
Music: Franc Mihelič, Alkehol, Jiří Saska,
Martin Klusák, Michal Pavlíček, Michael Kocáb
Animation: Jan Saska
Colouring: Jan Saska
Producer: FAMU, Ondřej Šejnoha
A black comedy about death with a happy ending. A splendid chain of unlikely encounters. Hunters, a tractor driver, a disco boy, and a corpse.
Official website: http://visegradanimation.com/new-talent/
---
---
Επιστροφή