Η Javascript πρέπει να είναι ενεργοποιημένη για να συνεχίσετε!
OH! POLISH ANIMATION 2018
Ενημέρωση: 09-07-2018 16:18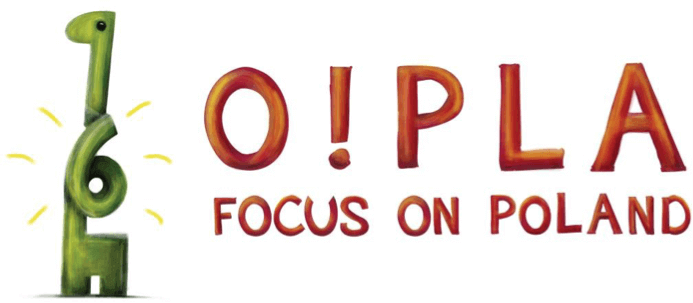 O!PLA 2018 –almost 22.000 Jury members, almost 90 festival venues located between Baltic Sea and Tatra Mountains, more than 100 shorts divided into 8 competition categories– these numbers briefly outline the specifics of the most unique and completely grassroots biggest Polish celebration of animated film. Now O!PLA is back with a new program entraining viewers from around the world into  the newest and the coolest Polish animation (O!PLA means "Oh! Polish Animation", but also: "Oh! People Love Animation"). And traditionally the program is created by "the biggest Jury in the world": Audience. Starting of 2013 O!PLA consequently grows in strength, but one thing remains constant –independence and passion, which standing behind the O!PLA. (Website: www.polskaanimacja.pl)
The Movies (90')
1. CARROT FIELD / Marchewkowe Pole, 16'
Poland 2016
Directed by Kacper Zamarło
Screenplay: Kacper Zamarło
Animation: Kacper Zamarło
Technique: 2D cutout
Music: Mikołaj Stroiński
Production: Studio Xanf
Dialogues: None
Last weeks of the cold winter. A drab and desolated province. 7-year-old boy, left without proper care, is looking for a companion to play. Despised and ridiculed by his peers, he decides to build a snowman. The snowman becomes a "prosthesis" for a coveted friend. But soon events take a dangerous turn. The animated story of empathy, suppressing emotions and maturation, which combines traditional and digital animation techniques. (III Place in the Professional Category)
HOW THE BLACK HOLE BEGINS / Bajka o Powstaniu Czarnej Dziury, 4' 26''
Poland  2017
Directed by Karolina Gołębiowska
Screenplay: Karolina Gołębiowska
Animation: Karolina Gołębiowska
Technique: stop-motion
Music: Michał Urban
Production: Academy of Art in Szczecin
Dialogues: Yes (english subtitles)
A story about the dog Rulon, who, after consuming some mysterious food, starts to fly. He decides to fulfil his dreams and fly off into space, where he encounters a sea of sweets. Rulon cannot control his appetite. At some point, however, he starts to get
lonely, so he decides to return home. This turns out to be impossible because he has become a dachshund longer than the Earth. He thus drifts throughout the cosmos, devouring everything that he encounters in his path. (III Place in the School Category)
STONE / Kamień, 4' 49''
Poland 2018
Directed by Marcin Ożóg
Screenplay: Marcin Ożóg
Animation: Marcin Ożóg
Technique: stop-motion
Music: Paśko & Zespół Co To
Dialogue: Lyrics in Polish
Wandering a man on a shelf with books.(III Place in Animated Music Videos Category)
WITH THE ARTIST'S KIND PERMISSION / Dzięki Uprzejmości Artysty, 10' 10''
Poland 2016
Directed by Piotr Bosacki
Screenplay: Piotr Bosacki
Animation: Piotr Bosacki
Technique: stop-motion
Music: none
Production: Piotr Bosacki
Dialogues: Yes (english subtitles)
In the film, Piotr Bosacki explains the phenomenon of the emergence of a work of art. Literary layer of the film, as usual in Bosacki's works, balances  between the seriousness and mockery. On the one hand, we listen to a lecture on basic science. On the other hand, statements uttered by the author somehow banter with their own meaning. It is all accompanied by elaborate classical animation. (III Place in the Experimental Category)
CAT TOY / Zabawka, 55''
|Poland 2017
Directed by Fabian Kowalczuk
Screenplay: Fabian Kowalczuk
Animation: Fabian Kowalczuk
Technique: drawing on paper
Music: Krzysztof Kowalczuk
Production: WA UMCS Lublin
Dialogues: None
Animated epigram about cat's fun... (III Place in the Animated Epigrams Category)
STRANGE CASE / Dziwny Przypadek, 13' 30''
Poland 2017
Directed by Zbigniew Czapla
Screenplay: Zbigniew Czapla
Animation: Zbigniew Czapla
Technique: watercolor animation / rotoscoping
Music: Marcin Oleś, Bartłomiej Oleś
Production: Warsztat Filmowy
Dialogues: English
"What are we here for?" – the protagonist keeps asking this question incessantly, thinking about the meaning of a human life. In a freely-flowing stream of consciousness, he goes back to the experiences that had an impact on him: love, adolescence and events from the contemporary history. A kaleidoscope of memories, thoughts and reflections is shown via rapidly changing picturesque images. Subtle brush touches and colourful patches are enhanced by restless music, sending shivers down the spine. (II Place in the Professional Category)
YOU ARE OVERREACTING / Nie Masz Dystansu, 3' 52''
Poland 2017
Directed by Karina Paciorkowska
Screenplay: Karina Paciorkowska
Animation: Karina Paciorkowska
Technique: drawing animation / rotoscoping
Music: none
Production: Film School in Lodz
Dialogues: Yes (English subtitles)
An animated take on woman's place in contemporary world. Inspired by reality and the media. (II Place in the School Category)
FAIL, 5' 05''
Poland/Spain 2017
Directed by Wojciech Ostrycharz
Screenplay: Wojciech Ostrycharz
Animation: Wojciech Ostrycharz
Technique: drawing animation
Music: Lion Shephered
Dialogues: Lyrics in English
Animals play the role of people. (II Place in Animated Music Videos Category)
LITTLE GIANT, 3' 08''
Poland 2017
Directed by Maciej Dydyński
Screenplay: Maciej Dydyński
Animation: Maciej Dydyński
Technique: liquid animation
Music: Lasy/Maciej Wojcieszkiewicz
Production: Lasy/Maciej Wojcieszkiewicz
Dialogues: None
A music video was inspired by the form and movement of liquids and micro scale, which resembles and brings the impression of the macro world. Just look inside the aquarium to see the cosmos. (II Place in the Experimental Category)
IF YOU CAN…, 1' 14''
Poland 2017
Directed by Hanna Rybak
Screenplay: Hanna Rybak
Animation: Hanna Rybak
Technique: drawing animation
Music: none
Production: WA UMCS Lublin
Dialogues: Yes (English subtitles)
Animated epigram inspired by the words of Winston Churchill… (II Place in the Animated Epigrams Category)
OH MOTHER! / O Matko!, 12' 15''
Poland 2017
Directed by Paulina Ziółkowska
Screenplay: Paulina Ziółkowska
Animation: Paulina Ziółkowska, Zofia Skórka, Aleksandra Wit, Natalia Krawczuk, Barbara Rupik, Karolina Specht, Artur Hanaj, Wojciech Wojtkowski, Aleksandra Kucwaj, Beata Strzelecka
Technique: drawing animation
Music: Tomasz Opałka
Production: FUMI Studio/Film School in Łodz
Dialogues: None
"Oh Mother!" is a story of a relationship between an overprotective mother and her son. It is a playful game of constant changes of social and family roles, age and sizes. The film tries to answer the question that is truly an adult and what does it mean. (I Place in the Professional Category)
COME ON KASIA – IT WON'T HARM YOU! / No Weź Kasia, Co Ci Szkodzi?, 6' 37''
Poland 2017
Directed by Aleksandra Filipowicz & Konrad Ożgo
Screenplay: Aleksandra Filipowicz & Konrad Ożgo
Animation: Aleksandra Filipowicz & Konrad Ożgo
Technique: drawing animation
Music: Aleksandra Filipowicz & Konrad Ożgo
Production: PJATK
Dialogues: Yes (English subtitles)
"Come on Kasia, it won't harm you" tells a story about a few normal and common situations, that escalate into strange and absurdly humorous endings. It's an animation about how we all are under permanent invigilation. But how much fun those who watch us are having?" (I Place in the School Category)
OHOHO, 2' 34''
Poland 2017
Directed by Łukasz Rusinek
Screenplay: Łukasz Rusinek
Animation: Łukasz Rusinek
Technique: drawing animation
Music: Gooral
Dialogues: Lyrics in Polish
The wandering highlander sees strange things ...
(I Place in Animated Music Videos Category)
STARDUST / Gwiezdny Pył, 2' 05''
Poland 2018
Directed by Elena Volozneva
Screenplay: Elena Volozneva
Animation: Elena Volozneva
Technique: animation of metal filings
Music: Minnesota
Production: Nicolaus Copernicus Univerity in Torun
Dialogues: None
Iron powder mixed with car oil was used to carry out the work, which was then manipulated by means of a neodymium magnet placed under the animation table. The effect has been perfectly synchronized with electronic music. I Place in the Experimental Category.
WHY YOU SCHOULD NEVER EVER FEED PIGEONS / Dlaczego przenigdy Nie Dokarmiać Gołębi, 1' 20''
Poland 2017
Directed by Agnieszka Świętek
Screenplay: Agnieszka Świętek
Animation: Agnieszka Świętek
Technique: drawing animation
Music: Jacek Latoń
Production: Agnieszka Świętek
Dialogues: Yes (English subtitles)
Animated epigram about pigeons... (I Place in the Animated Epigrams Category)
---
Επιστροφή